Bergen County Teen Wins Statewide Substance Use Prevention Music Competition
April 27, 2018

FOR IMMEDIATE RELEASE: April 27, 2018
Contact: Matt Birchenough, Media Coordinator, 201-916-1032, media@drugfreenj.org
Bergen County Teen Wins Statewide Substance Use Prevention Music Competition
MENDHAM— Students from across New Jersey united Friday night to deliver a stirring collection of musical substance use prevention messages at the 14th Annual New Jersey Shout Down Drugs Prevention Concert held at Daytop New Jersey by the Partnership for a Drug-Free New Jersey (PDFNJ).
Seventeen musical acts, composed of 31 students from 13 different counties, performed songs in the competition that challenges high school students to create original music with lyrics that contain powerful peer-to-peer drug prevention messages.
Maria Chung, a student at Northern Valley Regional High School at Old Tappan in Bergen County, won first place for her original song, "You Could Have Done Better." Meghna Das of Middlesex County was the second-place winner for her song, "The Voices in My Head." Three acts tied for third place: Valerie Vargas of Middlesex County with her song "Lend Your Hand," Justin Witwick of Union County for "Fade Away" and Essex County group Top Five, composed of students Samuel Anozil, Princess Akinwunmi, Ivan Fradkin, Edward Hardy and Cincere Saxon, for their song, "Worth It."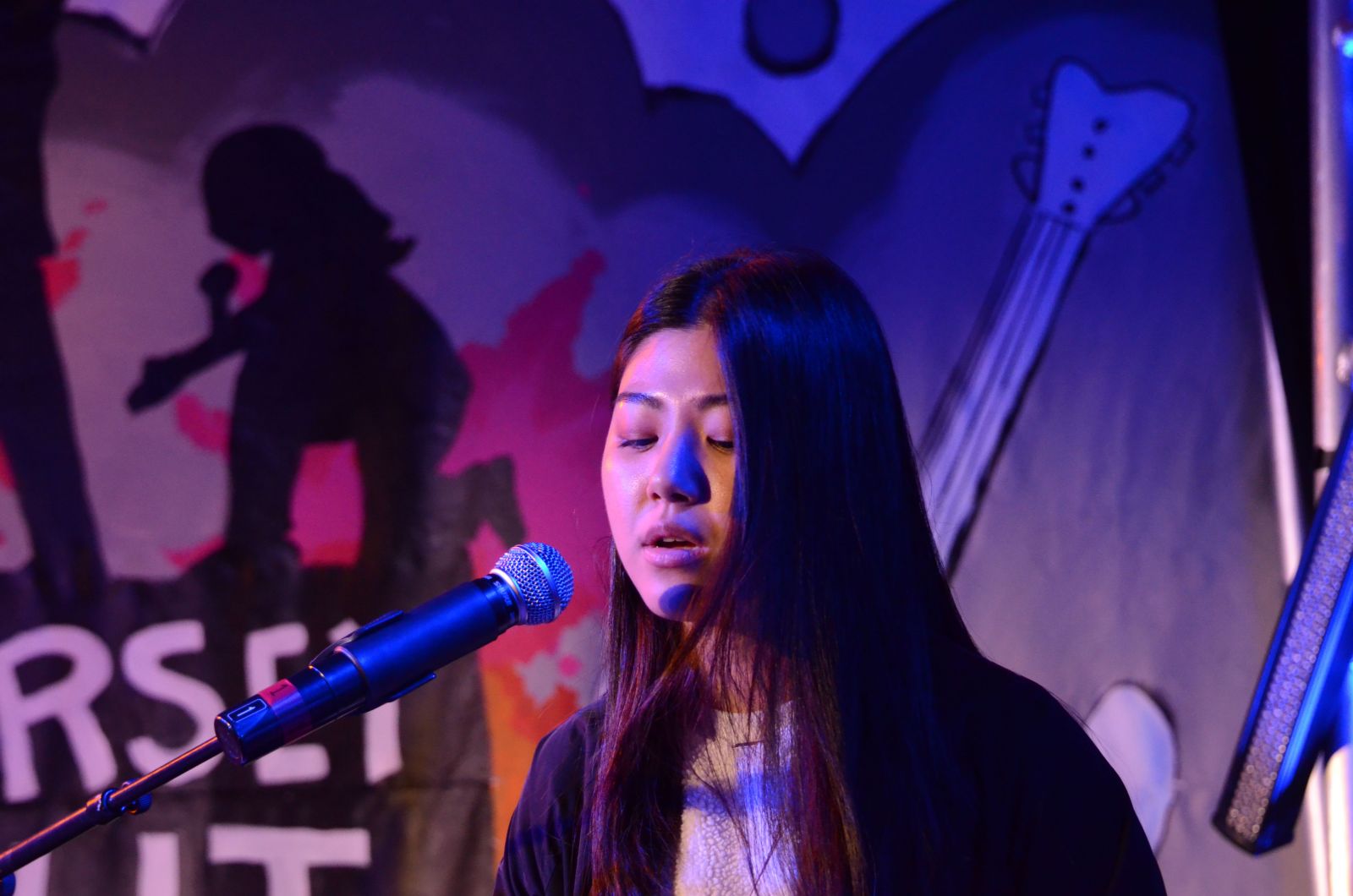 Maria Chung peforming her first place song, "You Could Have Done Better."
The winners received music contracts worth $5,000 for first place, $3,000 for second place and $2,000 for third place to perform their original songs at statewide events over the next year.
"New Jersey high school students have once again shown their musical talent and commitment to being peer leaders when it comes to substance use prevention," PDFNJ Executive Director Angelo Valente said. "The New Jersey Shout Down Drugs program is proof of the impact that teens can have on each other and in fighting the current drug epidemic gripping the state and country."
The 17 finalists earned a spot in the Prevention Concert after being selected by a panel of independent judges, as well as an online vote. A profile of each musical act was featured on www.shoutdowndrugs.com,and the public voted for their favorite songs in the months leading up to the Prevention Concert. Online voting began in February and closed at midnight April 26 with more than 300,000 votes cast.
Bert Baron, morning talk show host on 1450 WCTC, served as the master of ceremonies of the program, which was presented by Daytop New Jersey, the New Jersey Broadcasters Association, 1450 WCTC and Investors Bank.
"For many of the performers, this evening is a culmination of spending many days and nights rehearsing in basements and backyards, garages and high school gyms. They are truly all winners tonight," Valente said.
###
Best known for its statewide anti-drug advertising campaign, the Partnership for a Drug-Free New Jersey is a private not-for-profit coalition of professionals from the communications, corporate and government communities whose collective mission is to reduce demand for illicit drugs in New Jersey through media communication. To date, more than $100 million in broadcast time and print space has been donated to the Partnership's New Jersey campaign, making it the largest public service advertising campaign in New Jersey's history. Since its inception the Partnership has garnered 166 advertising and public relations awards from national, regional and statewide media organizations.