NJSDD 2011 Winners Announced!
May 6, 2011
FOR IMMEDIATE RELEASE
May 6, 2011
Contact Information:
Michelle Vernuccio Media Coordinator
Phone: 973.467.2100, ext. 24
E-mail: michelle@drugfreenj.org
MORRIS COUNTY'S ARYAN MAHYAR WINS 2011 NEW JERSEY SHOUT DOWN DRUGS STATEWIDE MUSIC COMPETITION
43 Students from 18 Counties Competed in Statewide Competition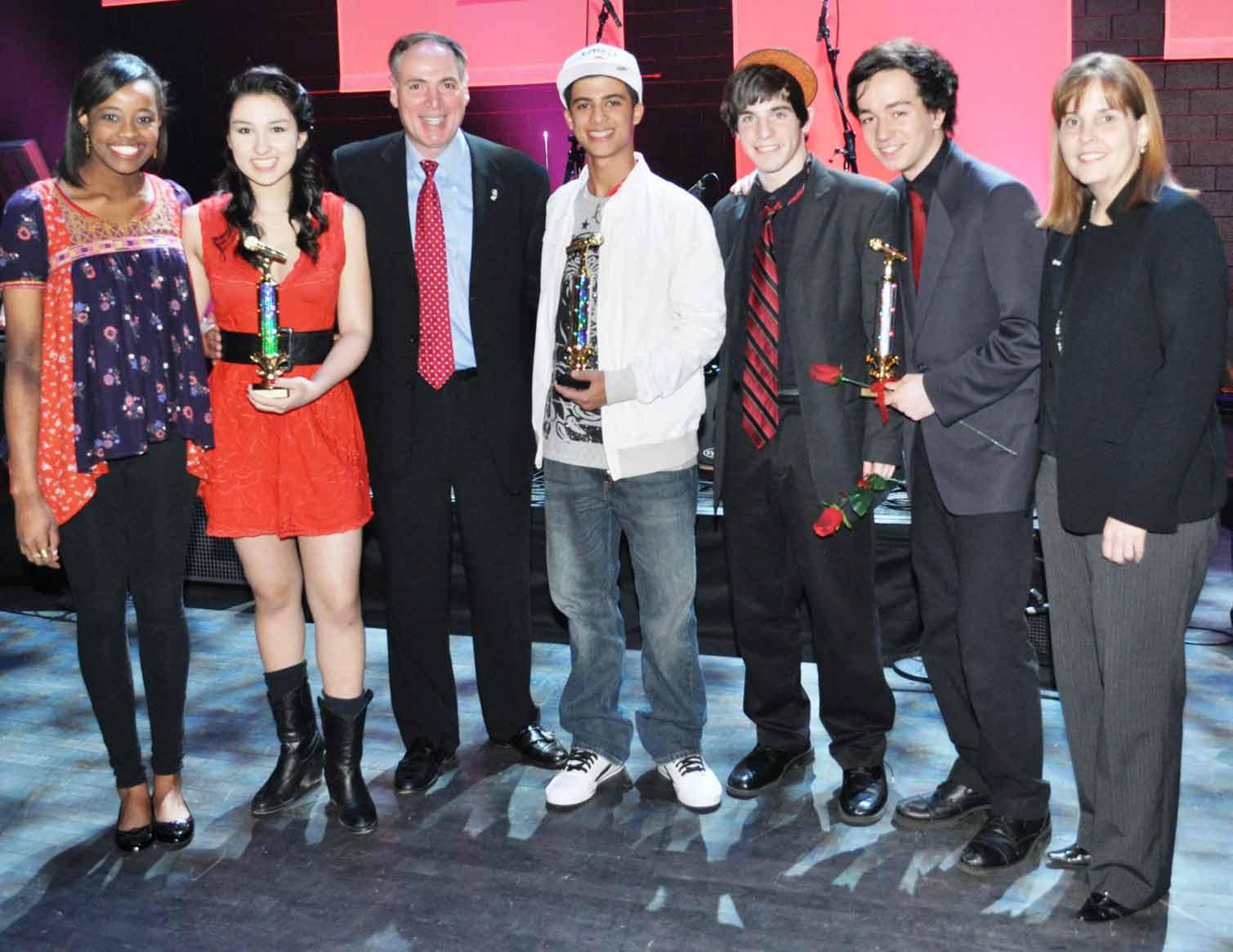 Morris, Monmouth and Hunterdon County high school students win first, second and third place honors at the May 5, 2011 Seventh Annual New Jersey Shout Down Drugs Statewide Prevention Concert, held at the New Jersey Performing Arts Center (NJPAC) for $10,000 in prizes. The winners of the New Jersey Shout Down Drugs (NJSDD) music competition, sponsored by the Partnership for a Drug-Free New Jersey (PDFNJ) and Comcast, were awarded music contracts: $5,000 (first place), $3,000 (second place) and $2,000 (third place) to represent PDFNJ at prevention events throughout the state over the next year. Joining Angelo M. Valente, executive director of the PDFNJ and Kimberly Smith, Comcast's Director of Government Affairs, from left to right are third place winners Taylor Willis and Morgan Evans; Ex. Director, PDFNJ, Angelo Valente; first place winner Aryan Mahyar; second place winners Tyler Spiegeland and Johnny Costa, both members of the group MIDDLETWO; and Comcast Director of Gov't Affairs, Kim Smith.
(MILLBURN, N.J.) – High School Students from throughout New Jersey came together to shout down drugs, during the 7th Annual New Jersey Shout Down Drugs Competition.
The 43 performers were finalists in the competition that invited high school students from around the state to create music and lyrics with substance abuse prevention messages. The high school students from 24 schools around the state, in 18 counties came together, last night, at the New Jersey Performing Arts Center, Newark to perform their original music before a panel of judges.
Statewide winners include West Morris Mendham High School freshman Aryan Mahyar who captured first place honors; finishing in second place were Allentown High School seniors Johnny Costa and Tyler Spiegeland, both members of the group MIDDLETWO; and North Hunterdon High School sophomore Morgan Evans and Whippany Park High School junior Taylor Willis were awarded third place honors.
The winners were awarded music contracts to represent the Partnership for a Drug-Free New Jersey (PDFNJ) at prevention events throughout the state over the next year.
"As an organization, we are committed to helping young people educate themselves about the dangers of drug and alcohol abuse." said Partnership Chairman Joseph A. Miele. "Music is a tremendous influence in the lives our young people. We are excited to launch New Jersey Shout Down Drugs, a program that will encourage young people to tap into their creative abilities and generate a positive anti-drug message."
"Comcast is proud of our long-standing relationship with the Partnership for a Drug-Free New Jersey," said Bill Kettleson, regional vice president of government and community affairs for Comcast. "The Shouts Down Drugs event is effective in spreading the important anti-drug message, and we are happy to extend its reach through our On Demand platform."
The program's exclusive website, www.shoutdowndrugs.com, allows fans to view finalist's profiles, listen to their music and cast their vote for their favorite song. This year over 160,000 votes were cast from across America.
Comcast will produce a New Jersey Shout Down Drugs concert special that will be available to view throughout June and July for Comcast Digital cable customers in New Jersey. Comcast Digital cable customers can watch Comcast On Demand, at no additional cost and with the ability to pause, fast-forward and rewind. The program can be found by tuning to Channel 1 On Demand, selecting "Get Local" from the main menu and then choosing "Community Investment."
Photo and Interview Opportunities of the winners are available by contacting the PDFNJ.